Welcome to our p4p shop - now updated with our new stock! All the profits from your purchase(s) go directly to the ponies and our campaigning work.
For all items other than Calendars or Sponsorship, standard shipping on purchases up to £19.99 is £3.60. For purchases above £20, postage and packing is £6.00.
If you wish to combine a calendar purchase with purchases of other items below, please select the "Collect Calendar" dropdown which does not include postage, and then make your other purchases. Postage on the full total purchased will be added automatically by PayPal at the end.
We can only take credit card payments via PayPal but we can also take payment by cheque, cash or bank transfer. If you'd rather pay by cheque, or if you have any problems then please get in touch either by calling 07968 071179 or by email people4ponies@yahoo.co.uk
Sponsor A Pony - Why not help support us by sponsoring a pony? You can choose which pony to sponsor...You will get a Sponsor Pack and updates twice a year on your pony's progress. Visit the "Sponsor A Pony" page to choose which pony you'd like to support. Payments can be made by monthly direct debit, bank transfer or cheque.
There have been recent issues with monthly payments via PayPal so we are not offering this option for the moment. It is possible to pay for an annual sponsorship in one payment via PayPal.

.
People4ponies Calendar 2019 - £6.50 each
Our People4ponies calendars for 2019 have arrived! The calendar features our p4p ponies, including our sponsor and loan ponies.
Featured ponies this year are Arthur, Rocky, Munchkin, Puffin, Breeze, Star, Wolfie, Dan, Muddy (and his "Mum" Tasha), Babe, Topsy, Bobby, Bisto and Jaffa.
Thanks to Hedgerow Print, we still have the improved grid design on the calendar, which includes the moon cycles, colour coded weekends and bank holidays, and a snapshot grid for the following month so you can plan ahead without having to turn the page!
All profits from the sale of the calendars go directly on looking after the ponies and our campaigning work.










Glossy photos with a central binding, each side measures 279 x 216mm (just a little bit narrower than A4) so is nice and big when fully open and displayed on the wall (279 x 440mm).
Thanks to Hedgerow Print the prices are the same as last year - £6.50 each.
You can purchase your calendar either by using the PayPal link below, or get in touch with us directly on 07968 071179 or people4ponies@yahoo.co.uk.
Please choose from the options below. Select the "Collect Only" option if you wish to collect or if you are also purchasing other items from the shop (so that the postage will be combined). Otherwise, if you are only purchasing calendars, select whether you would like your calendar posted first or second class.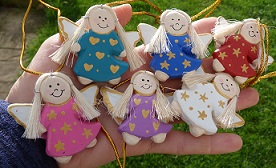 Fairtrade hand-made and hand painted wooden angel ornaments - £1.50 each+ P&P - These delightful angels come in 6 colour choices - pink, purple, teal, white, blue and red. Each have a gold hanging loop so great for your Christmas tree - or as a guardian angel to hang in your car etc!

We currently have 5 pink, 3 purple, 2 white, 5 red, 5 teal and 6 blue angels available. Size 5cm x 5cm.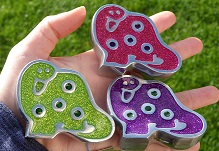 Fairtrade sparkly dinosaurs in green, pink or purple - £3 each + P&P -These fun ornaments can also be used as paperweights! Made from aluminium.

We currently have 2 pink, 1 green and 1 purple available for purchase.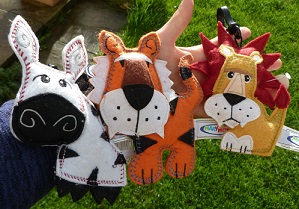 Large Animal Keyrings - Zebra, Tiger or Lion - £2.50 each + P&P -These fun keyrings are ideal for children. They each have a large plastic clip attachment at the top for keys - or to hang them by - perhaps for a mobile? Each animal makes a noise when pressed in the centre - roars for the cats and whinnying for the zebra!


Fairtrade embroidered floral beaded zip purse - £7.50 each+ P&P - These are absolutely beautifully made, super quality and could also be used for other purposes - perhaps a make up bag? Choose from either beige or chocolate colouring.

We currently have 2 beige and 1 chocolate available.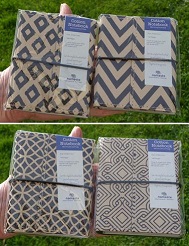 Fairtrade Printed Handmade Paper Notebooks - sold individually - £2.20 each + P&P - Craft handmade small notebooks in geometric patterns. Available in 3 designs - the 4th is now sold out!
8cm x 11cm.

We currently have 3 diamond design, 3 zigzag, 2 black floral (lower left in the photo). Interlocking design is now sold out!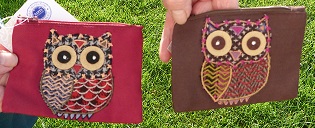 Fairtrade Tweed Owl Purse - £6 each + P&P - Zipped purse with applique tweed owl. Available now in chocolate only - red sold out!


We currently have 2 chocolate colour purses available for purchase.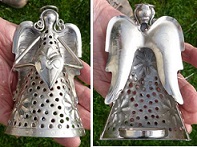 Fairtrade Angel Tealights - Nickel Plated Iron Cutwork Angel. £8.50 each + P&P - Can be used as an ornament or a tealight. There is a tealight holder at the back - light the candle for an ambient glow! The angel holds a heart in her hands.
8cm x 8cm x 15cm.

We currently have 5 available.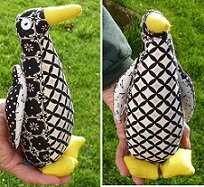 Handmade Penguin Soft Toy- £10 + P&P - Beautiful chap with lots of character! Button eyes and beautifully crafted. Only one available!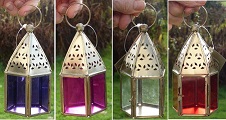 Fairtrade Morrocan Style Mini Glass Lanterns £5.50 each + P&P - Each lantern is assembled by skilled workers - made by hand using skills passed down from generation to generation. Coloured glass means that there is an option of 4 colours - purple, pink, clear or red.
7cm x 7cm x 13cm.

We currently have 3 of each colour available.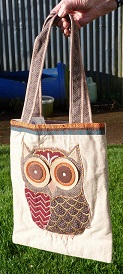 Fairtrade Cotton Shoulder Bag/Shopping Bag with Tweed Applique Owl Design £12.50 + P&P. Only one remaining! These have been so popular on our stalls! Size 33 x 38cm. Lined inside and with a pocket for valuables.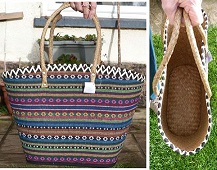 Fairtrade Handwoven Shopping Bag - £18 each + P&P - Brightly coloured and light to carry. Size 43cm x 20cm x 31cm. Two available.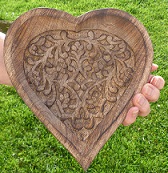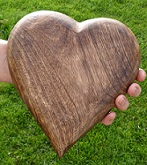 Fairtrade Carved Heart Shaped Platter - £14 + P&P - Carved in Malabar Vine - amazingly detailed carving and beautifully finished on the back too. A lovely display piece on it's own...or could use for car keys or fruit etc...
3 available!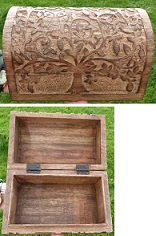 Fairtrade Mango Wood, Owl, Tree of Life, Domed Box. Medium size- £20 + P&P. Only one remaining! Amazingly detailed carving, these have been so popular on our stalls!
Sold Out!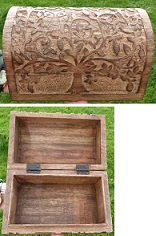 Fairtrade Mango Wood, Owl, Tree of Life, Domed Box. Large size- £25 + P&P. Only one remaining! Amazingly detailed carving, these have been so popular on our stalls!
Size: 23 x 15 x 15cm.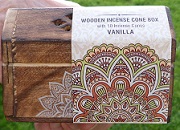 Mango Wood Incense Box with 10 Cones contained inside. £3.50 each + P&P. Metal tray in centre of box for burning the incense. Available incense choice of Vanilla, Sandalwood, Lavendar, Rose, Jasmine or Patchouli. Two of each variety is available for sale.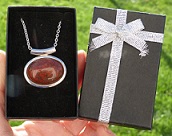 Necklace Designed by our supporter Thea - Gemstone chain necklace in a beautiful display box £10 + P&P - Only one available!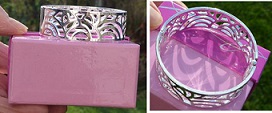 Metal Bracelet (silver in colour but not silver) £8 + P&P - In pink display box. Hinged opening. Only one available! Diameter 6.5cm.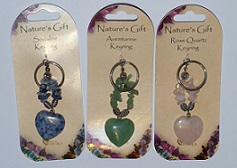 Gemstone Keyrings £3 each+ P&P - Gemchips and a heart shape stone. Available in sodalite (blue), aventurine (green) or rose quartz (pink).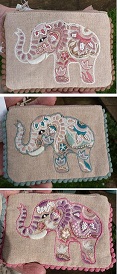 Embroidered Zipped Purse - For Coins or Cards £6 each + P&P. Mini purse with elephant designs - embroidered and also decorated with beads. Also with coloured edges to match the colour of the elephant design. Available in pink or chocolate colour - green has sold out! Lined inside.
Size: 12 x 1 x 9cm
2 pink available, and 2 chocolate!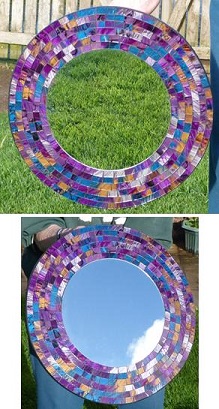 Fairtrade Mosaic Mirror - Purple £25 + P&P
This mirror has been hand-made by very skilled workers using a variety of sizes of coloured glass.
Looks fantastic, especially in the sunshine!

Only 1 remaining!
Size 40cm x 40cm.
.
Thank you for your purchases and your support!