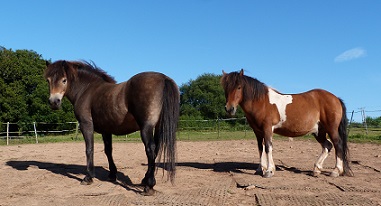 People4ponies is a pony sanctuary based in Devon specialising in helping wild and traumatised ponies. As well as being home to ponies that are too traumatised by their experiences of people to find "normal homes", we are very pro-active and successful with our campaigning work.
We work to create changes that make a real difference to the ponies - by getting a ban on mutilating identification procedures (such as ear notching and hot branding) and improving welfare standards at markets.
We have also trained others in the special methods we use for working with wild ponies - including the Animal Rescue division of our regional Fire Brigade. Our charity is run entirely by volunteers and every penny we raise goes directly on the ponies and helping with our campaigning work.

We are very grateful to our patrons Vanessa Bee (of Positiive Horsemanship and The Horse Agility Club); and Neil Parish (former MP for Tiverton and Honiton) for their support.

In 2019 we launched our Save Our Sanctuary Land Appeal! We've made really good progress and we have lots of changes underway...we still need to raise enough funds to buy land to complete our mission!

To keep up with all our latest news, please visit our pages on Facebook https://www.facebook.com/People4ponies, Twitter https://twitter.com/People4poniesUK and Instagram https://www.instagram.com/people4ponies/:
For historic P4P news visit our blog at www.people4ponies.blogspot.com